Corporate Partners and Supporters
As leaders in conservation engagement in New Zealand we partner with businesses who support our mission to grow and strengthen community and environmental initiatives across New Zealand.
Conservation Volunteers has a long and proud history of practical environmental partnerships with corporate New Zealand. We believe that working in long-term and meaningful partnerships achieves powerful social and conservation outcomes. It is our goal to treat each partnership individually. Typically a partnership includes financial support as well as employee involvement in projects. Partners can choose to support a particular project, programme, site or species, or focus on meaningful volunteer events for your staff.
CVNZ has experience with brand partnerships, large scale restoration projects
and community engagement. We measure our impacts and provide evidence in the form of field data, thorough reporting and storytelling.
Why you might choose to work with us:
Support long term and meaningful environmental and social impact
Get behind on-ground and in-community outcomes that are measurable and evidence based
Enhance brand awareness, brand value and competitiveness
Powerful staff engagement opportunities that can build stronger teams, enhance employee understanding of company CSR strategy and increase staff pride in your business
Generate positive and compelling stories of change within your communities of interest
We work with our partners and their communities to create lasting impact through four Campaigns that take on the biggest conservation challenges of our time. Each campaign houses a variety of projects that can be scaled to meet your level of investment.
We love to get creative with our partners and take a collaborative approach to building impactful partnerships that tell a great story. Our dedicated Partnerships Team can work with you to find your strongest campaign alignment and co-develop a partnership that reflects your brand values and sustainability strategy.
Have a read of the stories below to learn more about our current partners and supporters.
Our corporate partners support our purpose to inspire change by connecting people with nature and creating impacts for both the environment and communities.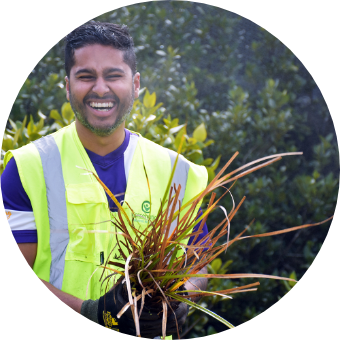 Our ability to run environmental restoration projects is dependant on our volunteers and our partners who support us. This makes it essential for us to work together and we welcome conversations to explore opportunities to partner with you.