Green spaces improve our quality of life, absorb carbon and provide homes and food for our native species.
The original forest cover of Aotearoa has been severely diminished since human settlement. In pre-human times, almost all of New Zealand was covered in forests. Now, only 25% of native forest remains.
Green Futures aims to recover and restore forested areas through large scale native planting projects. Our goal is to reclaim Aotearoa's green spaces with native vegetation, build climate change resiliency, protect and enhance biodiversity, and provide habitat for native species. Native forests are extremely important habitats for native species and are a big part of our cultural identity. They support a diverse range of wildlife including birds, lizards, frogs, plants, fungi, and insects. Not only this, but they also help stabilise soil, recreate linkages, and enhance water quality and landscapes.
Our Green Futures projects take place in Auckland, Wellington, Christchurch and Punakaiki. To date, Conservation Volunteers New Zealand have planted more than one million trees on various sites across the country. We have built native plant nurseries at sites such as Ātiu Creek Regional Park in Auckland and Punakaiki. These plant nurseries have the capacity to supply all the seedlings required for our large restoration projects. Almost all of our large-scale restoration planting projects include invasive pest control.
Through Green Aotearoa, we partner with both local and national government and community groups. Planting is undertaken by the Conservation Work Skills team, a range of volunteers, and also planting crews in more remote locations.
Have a look at the stories below for some examples of our Green Futures projects.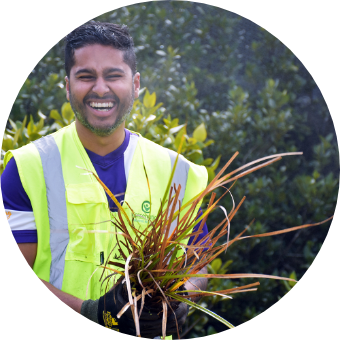 Our ability to run environmental restoration projects is dependant on our volunteers and our partners who support us. This makes it essential for us to work together and we welcome conversations to explore opportunities to partner with you.