Who can volunteer?
Conservation Volunteers welcomes anyone with an interest in the environment to take part as a volunteer.  Our volunteers come from a wide range of backgrounds, and you don't need any prior skills or experience to get involved. 
We have volunteer opportunities to suit your availability and interest. You can: 
Volunteer regularly and help the environment in your local area
Volunteer on the weekend and enjoy the outdoors 
Volunteer with your colleagues as part of our Employee Volunteering program 
To find a volunteer opportunity to match your interests, browse our projects  or get in touch at  [email protected]. 
Is it difficult?
You should be in good health, be reasonably fit and prepared to take part to the best of your ability. We ask all prospective volunteers to declare any medical conditions, allergies, disabilities or existing injuries that may affect participation. Our staff will discuss these with you in a confidential manner. 
You should be aware that Conservation Volunteers projects are usually labour-intensive and take place in both urban and rural areas. Some sites and activities are more difficult than others so don't hesitate to get in touch about particular events or projects. Be prepared to participate in all weather conditions. You'll need to bring appropriate clothing for the weather. 
All volunteers are provided with training on the project and safety instructions. 
What sort of projects can I volunteer on?
Our projects and activities vary from region to region and depending on the time of year. Activities can vary from community planting events in winter to litter clean ups and weed control in summer. Most projects are one day events but some regions have occasional weekend events or predator control programmes that involve a longer commitment. Visit our events page to see what's coming up.
Can I volunteer for just a day or a weekend?
Yes, you can join for a single event. For most of our projects there is no long term commitment needed.
Do I need any special skills?
You will be shown how to use all tools and equipment safely before you start the project and there will always be a Conservation Volunteers Team Leader with first aid training. Any essential safety equipment will be provided, and you will be shown how to use it. 
Who are the other volunteers?
As a Conservation Volunteers volunteer you are part of a team helping to conserve a part of New Zealand's unique habitat. As well as making a real difference to the environment, volunteering is a great way to meet new people. The other volunteers on your team might be travellers, students, or locals who have lived in the area for years. 
Who are Conservation Volunteers Team Leaders?
All Conservation Volunteers projects are led by an experienced Conservation Volunteers Team Leader. Our Team Leaders are a great source of knowledge about the environment. They are enthusiastic and an expert in the practical conservation projects we operate. Above all, they want you to enjoy your experience as you help the environment. 
How do I get to the project?
For each project we can provide transport from a central meeting point. We will pick you up and travel together to the project site to minimise vehicle usage, returning to the same drop-off point at the end of the day/project. You can also choose to meet on site.
What about food?
For projects which do not include an overnight stay, simply bring your lunch and water bottle with you. 
For projects which do include an overnight stay, all meals are provided.
On an overnight project what sort of accommodation can I expect?
Accommodation will vary due to the wide variation in the nature of projects and locations. 
Typical accommodation can include caravans, hostels, shearer's quarters, bunkhouses or camping (CV supplies tents).  You should always bring a sleeping bag. 
What do I need to wear?
You need to make sure you are wearing a comfortable long-sleeved shirt and trousers, a wide brimmed sun hat and boots to protect your feet and ankles – Conservation Volunteers strongly recommends sturdy boots with ankle support. Also bring wet weather clothing, sunscreen (high protection factor), and a water bottle. 
What else do I need to bring?
For day projects just your lunch and water bottle. 
On overnight projects you will also need to bring a sleeping bag, towel and toiletries. 
How much does it cost?
Projects which do not include an overnight stay are free – simply bring your lunch and water bottle. 
Conservation projects which include an overnight stay may include a cost to cover food and accomodation. Costs may vary.
Volunteer Now
It's easy to get involved. Simply: 
Any questions? Email us now or give your local office a call.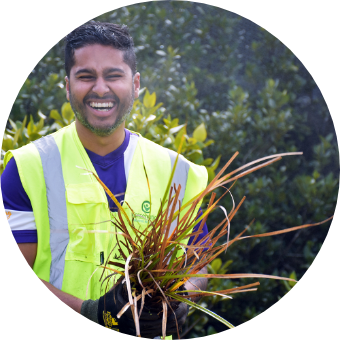 Our ability to involve volunteers in important environment projects is dependent on our partners who support us. This makes it essential for us to work together and we welcome conversations to explore opportunities to partner with you!