95%–99% of rivers in urban areas are polluted or exceed water quality guidelines, and 76% of native freshwater species are classified as threatened or at risk of extinction.
Our goal is to restore and maintain the health of our waterways.
Water is the source of life and is intertwined with human health and wellbeing, as well as that of the ecosystem. Protecting the health of our coastline, rivers, streams and wetlands is vital as they are vulnerable to a range of threats including erosion, sedimentation and pollution. New Zealanders have a meaningful connection to our waterways, as they are special places to visit and spend our time.
Wetlands, Waterways and Coasts recognises that our love for the coast and our waterways is having an impact. Threats to these areas include: erosion, pollution, loss of habitat and biodiversity, as well as environmental degradation due to invasive species. Combating these issues is a big task requiring a lot of time and effort, but it is not a lost cause!
Conservation Volunteers New Zealand has several projects and initiatives available that focus on tackling these issues to protect our precious coastlines and waterways – and you can help! You can volunteer in any of our upcoming or current projects which may include catchment wide restoration projects, riparian and restoration planting or litter clean-ups.
Have a read through the stories below to find out more about our Wetlands, Waterways and Coasts projects.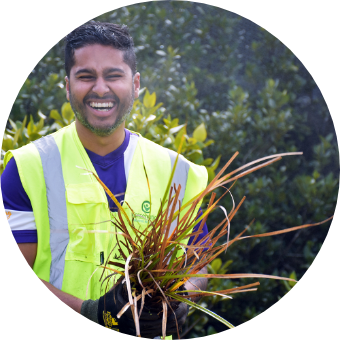 Our ability to run environmental restoration projects is dependant on our volunteers and our partners who support us. This makes it essential for us to work together and we welcome conversations to explore opportunities to partner with you.