Bringing people together to make real and lasting change
Combining evidence-based practices with the power of people who care, we make real and lasting change at scale. With offices in Auckland, Wellington, Christchurch and Punakaiki, we bring partners and participants together to shape stronger, healthier communities where nature matters every day. Our vision is for a world in which people and nature flourish together. We design and deliver our work through four campaigns. Each of our campaigns provides a pathway to protecting New Zealand's environment, and to build stronger, more resilient communities.
Because much of Aotearoa has lost significant forest cover. Green Futures aims to increase climate resiliency, protect and restore native biodiversity and provide habitat for native species through large scale native planting programmes.
Because New Zealand has the highest proportion of threatened species in the world. Wild Futures goal is to provide practical, on the ground actions to make a real difference to vulnerable species in
New Zealand.
Wetlands, Waterways and Coasts
Because our waterways are in trouble and need our help. Wetlands, Waterways and Coasts aims to bring communities together to care for the health of our waterways.
Because pro nature behaviour and skills require active nurturing. Our goal is to grow cohorts of people who are motivated and equipped to provide practical care for nature. Connected Communities focuses on education and employment to foster connection and resiliency in and between communities through conservation.
Tamariki for Tuna – Longfin Eel Education Photo by Alton Perrie Since 2017, Conservation Volunteers
Read More »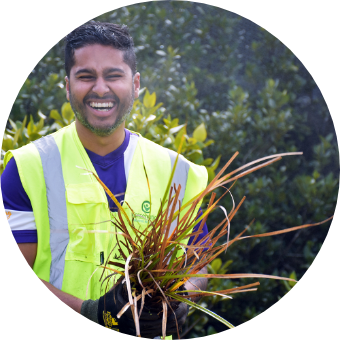 Our ability to run environmental restoration projects is dependant on our volunteers and our partners who support us. This makes it essential for us to work together and we welcome conversations to explore opportunities to partner with you.